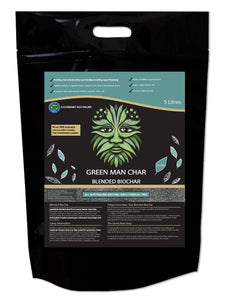 Blended Biochar
Regular price $25.00 Sale
Buy Green Man Char Blended Biochar – an all-purpose mix of ultra-fine, normal and coarse biochar. It delivers the benefits of all Green Man biochar grades in one!
Green Man Blended Biochar is a plant-derived Australian soil conditioner, high in quality and high in carbon content. When mixed with soil, it increases water and nutrient holding capacity and provides a home for beneficial microbes, ensuring your plants and crops prosper and stay healthy.

We are proud to say that our biochar is 100% natural, organic, and produced in Australia from sustainably-sourced local waste biomass. 
Green Man Char Biochar is available to buy in the following sizes (inc GST):
5 Litre Biochar $25 (Approx Weight 2.5kg)

25 Litre Biochar $65 (Approx Weight 13kg)

1000 Litres Biochar $1400 inc, freight (Approx Weight 550kg)
More Bulk order options available. Contact us for rates and availability.
How to use
Applications can be repeated annually, mixed into root zone or blended with your favourite fertiliser to fuel plant growth. For existing crops, it can also be applied as a top dressing.
Application rates will vary depending on soil types, vegetation & environment. Please see below for a general application guide:
 Use
Description
Application
Garden Bed
Planter Box, Lawn, flower bed
1-5 Litres /

m

2
Potting Medium
Adding biochar as part of a potting mix
10% of mass volume
Compost Blend
Blending biochar with you favourite compost blend

10% of mass volume

Garden Trees
Planting new trees or dressing existing trees

1-5 Litres /

 

m

2
Large Horticulture
Large Scale applications in horticulture crops
2-10 

m

3 /ha targeted at root growth zones
Discounted Shipping
We offer FLAT RATE SHIPPING based on weight.
KG
0-4

KG
5-19

KG
20-39

KG
40-99

KG
100+

$10.95

$15.95

$29.95

$39.95

QUOTE